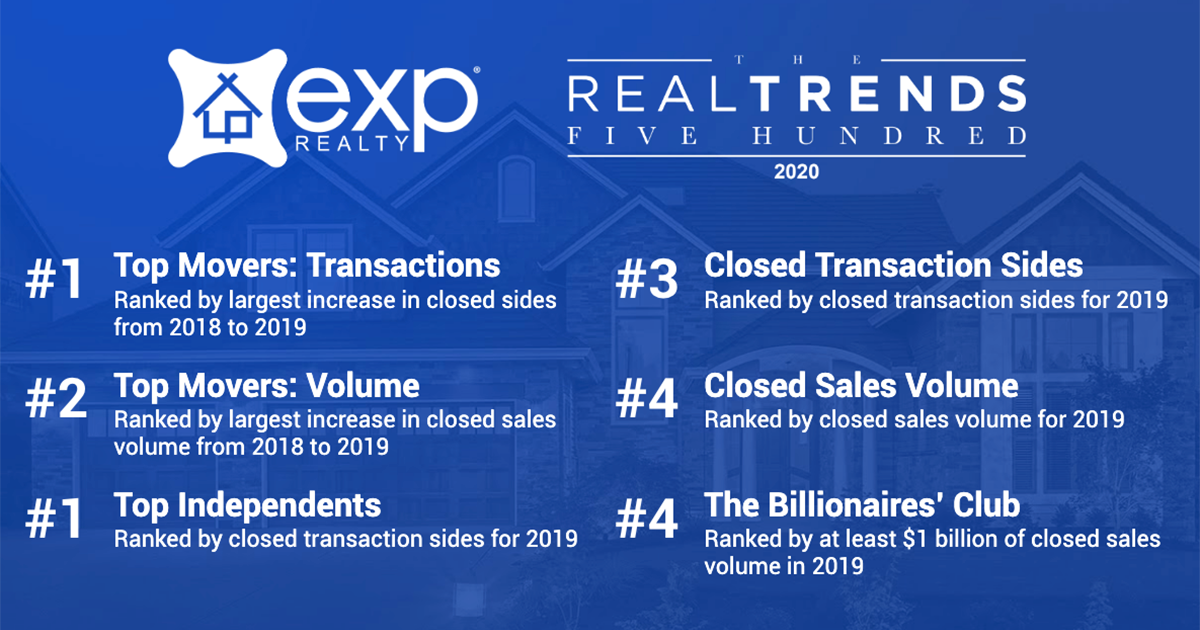 eXp's achievements include:
No. 1 Top Movers for Transactions

— eXp was ranked No. 1 for the largest increase in closed sides from 2018 to 2019, going from 73,458 sides to 130,627, which is an increase of 77.8%.

No. 1 Top Independent

— eXp was the No. 1 independent brokerage with 130,627 in closed transaction sides for 2019.

No. 2 Top Mover in Volume

— eXp was ranked by largest increase in closed sales volume from 2018 to 2019, with an increase of 85.6%

No. 3 Closed Transaction Sides

— eXp closed on 130,627 sides in 2019, which is a 77.8% increase over 2018's sides of 73,458.

No. 4 Closed Sales Volume

— eXp closed on $36,233,976,502 in sales volume in 2019 as compared to $19,523,826,266 in 2018, which is an increase of 85.6%.

No. 4 Billionaires' Club

— eXp and its CEO, Jason Gesing, were named to the Billionaires Club by being ranked with at least $1 billion of closed sales volume in 2019.
"This recognition is just another testament as to why eXp Realty's agent-first model is so attractive and successful," said President of U.S. Growth, Dave Conord. "Our agents are thriving under our commitment and support for them and as a result, the numbers tell the story. We couldn't be more pleased to see this continued growth that is shattering previous years' numbers, landing us on this prestigious REAL Trends list."
According to the REAL Trends report, more than 1,700 firms qualified for this year's REAL Trends 500, which determines the top 500 largest residential real estate brokerage firms in the nation. Overall, 3.4 million residential sales transactions were accomplished in 2019 for a value of more than $1.3 trillion.
These transactions represented more than one-third of all new and resale transactions completed by brokers during the year, yet the REAL Trends 500 represented less than 0.5 percent of all brokerage firms.
eXp's meteoric rise comes on the heels of its hugely successful financial report for the fourth quarter and the full year of 2019 in which eXp World Holdings, the parent company of eXp Realty, reported its first profitable quarter since being listed on Nasdaq in 2018. In the fourth quarter of 2019, eXp's revenue increased 82% to $274 million, compared to $150 million in the fourth quarter of 2018. And for the entirety of 2019, eXp posted record revenue of $980 million, which is an increase of 96% year-over-year from $500 million in 2018.